1、Material: 100% bleached cotton gauze
2、Size: Various sizes (5*5cm,7.5*7.5cm,10*10cm and so on)
3、Certification: CE,ISO9001/ISO13485,FDA
4、Packaging:

The packing sample(gauze sponges):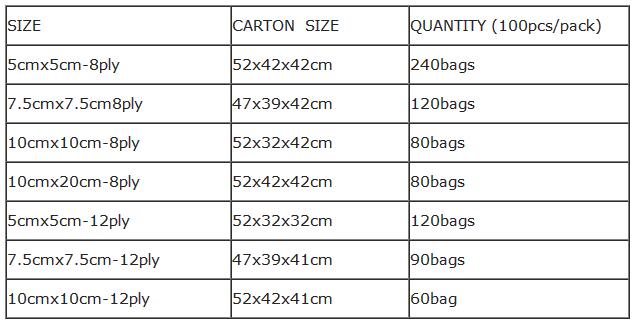 5、Feature:
1) Pure 100% cotton yarn fabric
2.)The sterilization has two types: Gama Ray, ETO
3) Absorbency =3-5s, whiteness =80% A
4)Soft and higher of absorbency with 100% all natural cotton
5)Mesh of 7,9,11,13,17,20thereads/cm2
6)Mesh of 40s/19x9,18x10,20x12,19x15,24x20,26x18,30x20 etc.
7)Item size:5x5cm,7.5x7.5cm,10x10cm,10x20cm. 2"x2",3"x3".4"x4",4x8" etc.
8)Folded edge or unfolded(be folded all by machine)
9)With or without x-ray
10)Expiry Date:3years for sterile, 5years for non-sterile
11)Conform to international standard:BP and USP.